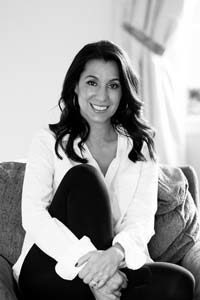 Author Yvette Manessis Corporon, whose new book recounts what she calls "survival and courage in the face of evil," was a recent speaker as part of the Daniel Pearl Education Center Speaker Series .
In Something Beautiful Happened, Corporon tells the powerful and emotional story how her grandparents and their friends and neighbors on the small Greek island Erikousa hid a Jewish family—a tailor named Savvas and his daughters—from the Nazis during World War II. Nearly 2,000 Jews from that area died in the concentration camps, but even though everyone on Erikousa knew Savvas and his family were hiding on the island, no one ever gave them up, and the family survived the war.
"Yvette's story may revolve about what her family and their community did to protect Jews in Greece in the 1940s, but the message transcends place and time," said Dr. Andy Boyarsky, the Daniel Pearl Education Center chairman. "The message here is one of love and compassion … and taking action to do what's right."
An Emmy Award-winning writer, producer and author and currently a Senior Producer with the syndicated entertainment news show EXTRA, Corporon is also the author of When the Cypress Whispers, a novel about the bond between an American woman and her Greek grandmother.
"In these difficult times, we often ask ourselves, 'What can I do to make a difference?'" Corporon said. "The Daniel Pearl Education Center is making a difference, and I hope my family's story will inspire the supporters of the Center to continue to do good work."